Our Vision and Values
Like most learning institutes, our school looks at core principles that will serve as the basis of our programmes and activities. At Chong Hua Bilingual School we look towards these 7 elements: Ethics; Diversification; Uniqueness; Communication; Application; Transcendence; Ecology.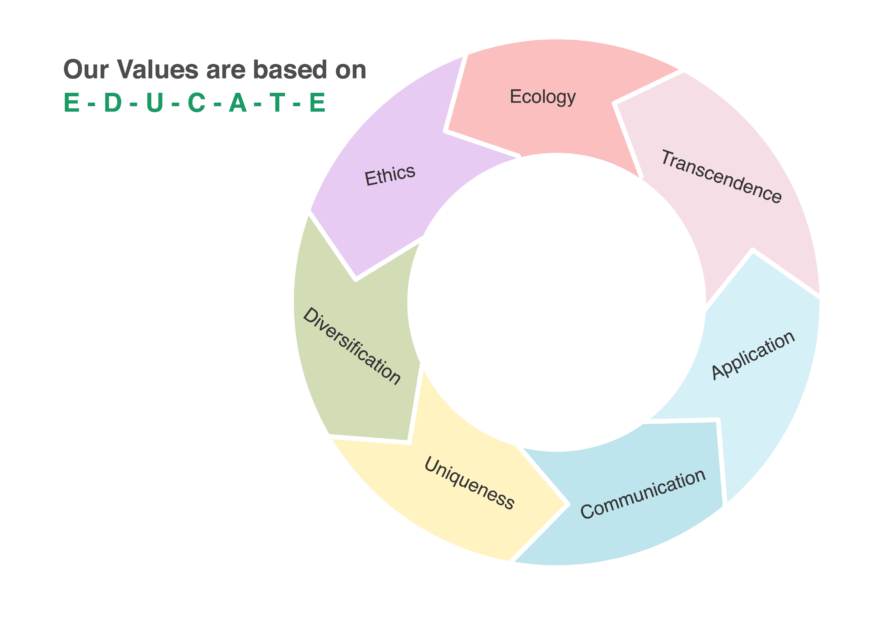 We aim to develop key capabilities in our students, allowing them to not only work hard to achieve their personal goals but to be independent and be self-reliant.
We incorporate the values and philosophies of Confucius and Mencius into everyday school life in addition to international learning elements, in the hope that our students will be able to contribute their talents and expertise globally in the future.
Our approach is evidently seen in the following:
Vision – At Chong Hua, education and mentoring are not limited to their academic needs. We guide and groom our students to become committed global citizens with international vision!
Academic – The main objective of the school is to make it accessible for students to acquire knowledge and academic skills for them to journey in the various stages of their lives. Our programme features subjects that allow students to explore and learn through comprehension, retaining of information and finding solutions.
Mindset – We believe in building a strong and healthy mindset for our students. This will in turn result in the moral values that they eventually hold and practice for the rest of their lives. Among these are peace, respect, integrity, responsibility, accountability, humility, and sincerity.
Social and Environmental Responsibility – To become effective global citizens, we encourage our students to be aware of their surroundings and think about their roles. How they can make the world a better place for them and the future generations.
Our students are also taught to develop the habit of filial piety, foster gratefulness, have compassion, and be mindful of social ethics in all that they do every day. Students are given lessons, tasks and activities that directly demonstrate the importance of these values, and to understand that attitudes and behaviours they adopt will impact their lives in the future. Teachers are readily empowered to share and enforce these values in their daily class sessions.
Our Mission to Instil International Awareness in the Students of Today
To groom every one of our students to not only excel academically, but to also practice the core values of the Chinese culture and morality qualities.
To prepare each student to become a global citizen with fluency in English articulation and communication.
To encourage students to explore and develop their distinctive traits and talents and guide them in their area of interest and lead them to reach their potential and excel in life.
Chong Hua is the first school in Taiwan to incorporate learning of Chinese Classics, Horticulture and Chinese Calligraphy in our syllabus.